Essentially the traffic is junk traffic. You can send it wherever you want, but it's not likely to get you any results. The idea really is to try and use that traffic to recruit other people into Traffic Authority. At the end of the day, the traffic packages are just a way of trying to legitimise a Ponzi scheme. New money is used to pay older members. That's how Ponzi schemes work.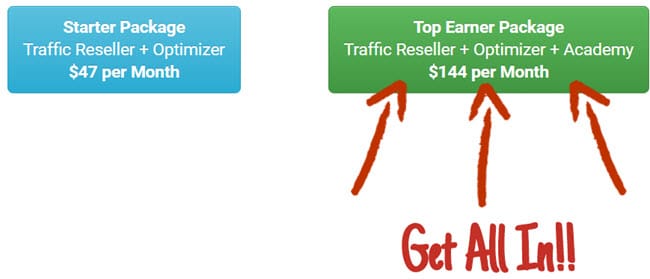 Traffic Authority launched back in 2014 and it's a business opportunity based around selling traffic. When you sign up you are put through a series of training videos and shown how to buy traffic packages to promote your new business and then how you can earn 50% commission reselling these traffic packages. Essentially when you buy the traffic you can choose to send it anywhere you want however the real goal is to send it back to your unique link for Traffic Authority because then when people sign up (just like you did for example) they will go through the exact same steps you did, buy traffic and then you'll earn 50% on the traffic purchases they buy.
The title of my review is "Push Button Profits – Misleading Scam?" so you are probably wondering why I would say that, and what exactly makes this a scam. On the face of things Push Button Profits and the business behind it (Traffic Authority) is not a scam. However I think it's misleading and one could argue that it is actually a scam. Here's why…. when you sign up to Traffic Authority (the business opportunity behind Push Button Profits) you are put through a series of training videos and steps which teach you about the business and how it's important that you buy traffic so that you can build your business and also so you can resell the traffic packages to other people you refer.
Traffic Authority does offer some training (for a fee of $97 per month). The quality of the training isn't clear, but I wouldn't expect it to be amazing. After all, the rest of the site is misleading. Even if this training works, you'd be following the same steps as everyone else promoting Traffic Authority. That means considerable competition right from the beginning.
For that matter, every affiliate for Traffic Authority is meant to be buying this traffic. Most will then use it to try and get sales. This means that the same general audience will probably be getting similar pitches over and over again. That pattern dramatically reduces the odds that you'll make sales. Honestly, the potential was never very high to begin with.
Push Button Profits is yet another money making opportunity trying to sell you a "fully automated" business opportunity. The idea of a "fully automated" business opportunity is that you pay Push Button Profits and you earn vast amounts of money with very little time or effort on your part. I hate to break it to you, but this type of business opportunity does not exist. My subscribers have requested that I take a look into Push Button Profits. Here is what I have found.
Thank you Evelyn for your honest review of this program, I love reading your reviews, I'm not so easy to join these opportunities because I know they do NOT tell ALL in their sales pitch. And when I saw Devon Brown as one of their testimonials that made me even more skiddish. I joined 2 of his programs before and you pay monthly fees plus his people to sell for you plus you have to buy solo ads that's his main source of traffic is PAID traffic. I made money with him but I also lost money with him, so just saying thank you so much again for your due diligence, soo much appreciated.
My Push Button Profits says that they are selling their business opportunity to just 200 people for $77, for a limited time.  For $77, you will receive 10 websites that can be set up by you – with no computer experience necessary – in five minutes.  These websites will sell a variety of products chosen by you, and all products are digital, so that there is no need for you to deliver anything to anyone or to be responsible for any merchandise.
The Push Button Profits System comes complete with capture pages and email follow-ups. What makes this different from a stand alone system is that there is real scarcity here. Most websites have a fake countdown timer tied to no real value. The Push Button Profits System has a countdown timer, and when it runs out, you miss out on the system's bonus. That is real scarcity and you save quite a bit of money just from this countdown timer if you join before it runs out. That's a tip to save you a lot of money right up front.
What can I say, another total waste of time. This guy is ridiculous, a scam at its best. We discovered nothing about his secret system , he just produced 2 videos to get me to sign up under his name, to grant his commission and left me to deal with the numerous up-sells inside this crazy FUNNEL system. He failed to deliver on any promise he made. No, Mr Elliott I am not paying you for these 2 lousy boring videos you created. You D O N ' T Deserve it. Stay away by any means.
My question to you is, how are they obtaining these clicks? If they are sending emails out to people and if that's how they get these clicks is by using some sort of deception for people to click, where is the value in these really expensive clicks that people are suppose to pay for? In my opinion jobs and starting a business are two different things…Wow!
Hey Kelly, If you want a refund, I would suggest calling the people at Traffic Authority, their phone number is, (850) 745-2961. If you look at any of Push Button Profits disclaimer's, on their disclaimer it redirects to Traffic Authority, so they are the people you would contact to get a refund. If you have any other questions Kelly, feel free to ask! All the best to you, Evelyn.
Materials in our product and our website may contain information that includes or is based upon forward-looking statements within the meaning of the securities litigation reform act of 1995. Forward-looking statements give our expectations or forecasts of future events. You can identify these statements by the fact that they do not relate strictly to historical or current facts. They use words such as "anticipate," "estimate," "expect," "project," "intend," "plan," "believe," and other words and terms of similar meaning in connection with a description of potential earnings or financial performance. Any and all forward looking statements in our materials are intended to express our opinion of earnings potential. They are opinions only and should not be relied upon as fact.
There is no scam to it. How can you call it a scam? You are given a web site with a great looking capture page and you pay for clicks to your web site and within a few days you start receiving opt-in leads from people who are interested in your opportunity. They do not guarantee SALES .They guarantee CLICKS! You are building your list for this bus ness or any other business you choose. Traffic is what every online business must have to stay in business and that is what they give you for your money!
When you join Push Button Profits, the programming works in the background to set everything up BEFORE you reach the member's area. By the time you reach the member's area, everything is setup for you. Your only job is to market the system. The Push Button Profits' system will do the heavy lifting, and they even have a full call center that will help you call your leads & close your leads for you.

I was charged $144.00 by The Traffic Authority on one of my credit cards and I can't find a way to contact them. This is not a charge that was authorized by me. I don't know who you are or who the traffic authority is. Before I report fraud to my credit card company I would like to correct this. Please reply since I would rather not cause you any trouble.
I started this website because I enjoy looking for ways to make money online. I learned from researching online that finding the right business is like finding the right ONE. We don't want NO lying, NO cheating and NO up-sells. These businesses are always wanting you to join their business. Just like any first date, the business should fork the bill. What I mean is that there should be a free version. Stay safe, keep your money in the bank and don't be too easy.